Adult Masked Man



Author

Nintens (No Triangle Eyes Captain Falcon by Syrus63 of KittyCorp.)

Download

Version:

2.0(Final)
Description
Edit
Mother 3 Spoilers Ahead.

This is a texture based off of the Masked Man from Mother 3. This is what Claus might look like if Lucas had waited until he was grown up to go on his adventure. (Although, I think Porky would've ended up destroying the world by then.)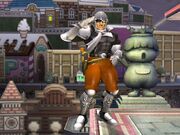 Ad blocker interference detected!
Wikia is a free-to-use site that makes money from advertising. We have a modified experience for viewers using ad blockers

Wikia is not accessible if you've made further modifications. Remove the custom ad blocker rule(s) and the page will load as expected.